There are two things I enjoy most, the thrill of driving and the joys in traveling. It so happens both are ruthlessly demanding on a level of personal finance and time commitment.
I'm determined though to fulfill both pastimes as best as I can. I've been a gearhead for as long as the mind can recall. I occupy my days off at Cars and Coffees, having engine oil run the length of my arm and delude myself of adventure by making small roadtrips beyond the city limits. I bring my camera, and I like to take pictures. To set the scene, I'm essentially an extremely middle-class kid who works a day job so I can try to play with cars and go places. 
However, early on in 2016 I made plans for a big summer trip. I decided I'd like to try and throw something grand together in an effort to do as much car stuff and travel stuff as possible in a given amount of time. This time there would be no silly Cars and Coffees or quick runs to a destination barbecue shack. I was going to save up and try to do something truly neat. This was going to be a sizable trip, and this was going to be an adventure.
Hindrances in anything of course don't simply come in the form of financial roadblocks but also in time constraints. The average American corporate job allots a relatively limited time away from the desk every year. Me? I get two weeks vacation. I take what I get and I'm grateful for it.
Two weeks it is then. Hmm. What can one really do in two weeks?
So I set off in August 2016 and in two weeks I managed to attend Car Week in Monterey, visit a few car friends in Los Angeles and Atlanta, travel to Germany, drive on the Autobahn, and then hit France, Luxembourg, Belgium and the Netherlands along the way. In two weeks, I would talk to someone about the Nurburgring in California and then drive on the actual thing a week later. In two weeks I would see many of the world's most expensive and exclusive cars, several times over. I would drive over half a dozen cars, a few that aren't even sold in the U.S. I would come to meet people I've only been familiar with on social media. And in two weeks I would also end up being in some of the most miserable situations I have nearly ever experienced.
This then, is a chronicle of my adventures in those two weeks. 

For each leg of the trip I've listed the cars I had the privilege of driving or riding in. As this ended up being a longer read than I expected, I've split the entire thing up into six parts.
I. Madness at Car Week 
II. The LA Exotic Experience 
III. Intermission at Atlanta 
IV. Roadtrip Across Europe 
V. Journey to the Nurburgring (the E30 that could) 
VI. Final adventures (and epilogue)
Let's begin.
I. Madness at Car Week
Cars experienced on this leg: BMW 535xi (E61), BMW M4 (F82), BMW M2 (F87)
The entire journey sets off from my humble abode in Austin where I would be joined by my long-time friend Cam from Atlanta (unfortunately not short for camshaft). We'd arrive in San Jose, California, grab our rental car, and head straight for Monterey.
Right off the bat I, at least somewhat advertently, established that this trip would not go easy. Monterey or Pebble Beach Car Week, for the uninitiated, is an annual automotive phenomenon that takes place around the Monterey Peninsula. It hosts one of the world's most prestigious car auctions (the Pebble Beach Concours d'Elegance) and many other high profile car events. Indeed, it is an event that draws many of the wealthiest car enthusiasts in the world.

This of course creates a demand in the area that skyrockets the cost of visiting, even for Monterey which is a place where many retired plutocrats call home. Accommodation for the week was not affordable, at all. For example, your average Motel 6 complete with meth needle decor can easily fetch over $400 a night even just outside the vicinity during Car Week. Airbnbs book up months out. I had friends in the Bay Area but combined with Bay Area traffic and distance, the solution rendered useless. 
We wouldn't be staying long for this leg of the trip, but we still needed a place to rest our heads. It was then Cam suggested we can try camping as a solution to the costly accommodation. Camping? It was something I hadn't considered then. Bringing tents with us on the plane would be a bit of a hassle. Buying tents once we arrive wouldn't be cost efficient either.
"What if we just slept inside the car?" Cam devised.
That of course was always an option but in this particular case, an amusingly ironic suggestion. Why yes, we can always attend Car Week, an event assembled by two kinds of people: millionaires and those who are wealthier than millionaires, by playing a game of vagrant simulator.
Our nervous laughter at the idea quickly turned to silence and then we soon realized, this was for real. This was going to be us. We were going to be homeless because we couldn't actually afford attending Car Week. Son of a good loving mother.
So our search began of finding a good vehicle to call home for those three days. Normally good vagrant vehicles are large and roomy, typically vans that are often predatory in appearance. A van of any sort was a no go for this trip. We wanted something at least somewhat enjoyable to drive. 
Thanks to the eclectic selection of cars from 
Turo
, we found ourselves a very cool BMW E61 535xi touring. BMW nomenclature decrypted, we had on our hands what was essentially a 300hp BMW wagon. It would have some kick to it and we could sleep in the back. It was perfect.
That idea worked terribly.
The first night in Monterey came quicker than it arrived. We first had to find a place to park the car overnight where one, we wouldn't be harassed by local law enforcement and two, wouldn't get shot. Our best bet ended up being a residential neighborhood just far enough from any particular residence. We figured at worst we would just be mistaken for two homosexual men who happened to be homeless in a late model BMW wagon, a situation that shouldn't be too far-fetched for most Californians.
BMWs are designed with a lot of neat features in their cars but one thing became quickly evident, they do not design the back of their wagons for occupants to comfortably sleep in. The trunk floor looked innocent enough, what with all its carpeting and padding. It was absolutely awful to sleep on. Even with a sleeping bag, it was a torturous night. The floor had no give and basically felt as hard as concrete. The only redeeming part of the night was that it was a cool 55 degrees out by the Pacific.
Verdict? If you're seeking a true adventure, substitute soy milk in your cereal if you have to, but do not sleep in the back of a BMW wagon.
Groggy-eyed and sore, we had to press on to explore one of the most incredible car events in the world.
Unbeknown those who have never gone, Car Week is actually a place to go where car enthusiasts can become desensitized to all their wildest automotive dreams. The literal amount of fantasy cars that litter Monterey during the week is downright absurd. It is a place where cars you'd expect to see once in a lifetime are replicated by the handful. For the car lover, it is one wild acid trip realized.
An example comes in the form of Lamborghini's legendary classic Miura. The Miura is an incredible sight to behold alone by itself, but this year Lamborghini and its private owners managed to put on a display of nearly two dozen of them at the Quail. We arrived at the tail-end of preparation day and caught the cars at dusk.
Bugatti makes some of the most expensive and exclusive production cars in modern times. That of course meant bringing out their product by the multiple. Unfortunately I wasn't able to see their new Chiron uncovered.

I also had a first encounter with Sweden's little powerhouse of a hypercar maker, Koenigsegg. I've dreamt of seeing one in person since my high school days. Car Week actualized that dream. Their new Regera was an absolute spectacle.

At Laguna Seca, we visited the world renowned corkscrew and watched legendary racers being flung about. Most of these cars are ones that are immortalized in the greatest tales of motorsport. To watch and listen to them come alive was... well, it was absolutely breathtaking.

BMW North America was generous enough to offer all of its flagship vehicles up to experience at its Pebble Beach villa/tent/private function thing. We figured as their E61 wagon punished us in ways we wish not to relive, we'd take compensation in form of quick stabs of the throttle in its new and very hyped M2 and M4 super coupes. Was it worth the pain of sleeping in the back of a wagon? Well that's something I'd hate to admit.
While BMW M cars are best experienced on brisk winding roads, we really couldn't complain about having a quick go on the slow but arguably most gorgeous stretch of road on the west coast, the Pebble Beach 17-mile drive. These new M cars feel nothing like their predecessors, but that wasn't necessarily a bad thing with how much torque comes on so quickly. While piloting my new Austin Yellow M4, I was followed by a Lamborghini Huracan in the rearview mirror. At that moment I knew I was given a glimpse into a life far beyond my current socioeconomic status. Life was alright then and there.
Cam also had a blast driving the new M2, a car I had ran out of time to experience but had a go in a different one just a little while back in July. What seemed most appropriate was 2016 marked the year BMW turned 100. What better way to celebrate it than to be tortured sleep in one their wagons and then experience two of their most beloved new performance cars?
As the third day came to a close, I would undergo another arduous night. Cam headed home to Atlanta while I boarded a bus to begin my second leg of the trip. That bus route was a 6 hour trip to LA that started at midnight.
II. The LA Exotic Experience
Cars experienced on this leg: Camaro RS (2015), McLaren 12C, Ferrari 599
Ironically enough my "exotic" experience in LA began by picking up a rental V6 Camaro, a car one wouldn't exactly envision to be exotic in any sense of the word. Yet, I was absolutely ecstatic to pick up the car, but not for the car itself. By sunrise I had arrived in downtown LA and I was running on less than an hour of sleep. If there was one place worse than the back of a BMW wagon to rest my head, an upright bus seat would have been a strong contender.
A quick Google search reveals that the definition of desperation as behavior that results from rash or extreme behavior. Extreme behavior here accurately describes the irrational joy I found in being able to quickly find a public park, recline my driver's seat and rest in my newly acquired GM product.
Nevertheless, I was in LA to meet a friend I've gotten to know over the years through a shared interest in fast saloons. It is a strange twist of events then that two years ago he decided to purchase himself something not very saloon-like at all. The car is very two door, very red and very Italian. Amongst car guys we might refer to them as products of Maranello's most pompous assholes. For everyone else, they call them Ferraris. We'll refer to its owner as Mr. K.
But before Mr. K was able to make himself available, I had some time to kill in LA with a nearly new 2015 model Camaro which, mind you, had the RS package and less than 5,000 miles on the odometer. That of course meant driving straight to Koreatown and pulling hairs to find a parking space so I could enjoy some of the best Korean food found on this side of the hemisphere. This allowed me to contemplate and come to terms with the fact I was going to spend the next 48 hours in a V6 Camaro.
Derogatory jokes about effeminate muscle cars aside, I've decided it would always be in my best interest as a car lover to maintain unbiased perceptions of cars until I drove them. So off I went to road test the Camaro. I headed up to Big Tujunga/Angeles Crest and later performed a full run down the length of famed Mulholland Highway, popular proving grounds for LA enthusiasts and journalists such as a certain Matt Farah. 
What was surprising was the car's very taut chassis and capabilities in carving corners. Driven to a certain extent (within legal bounds of course), the Camaro was happy to keep up with other sports cars and moderately paced motorcycles. However, disappointingly enough what did not surprise was the V6's miserable attempt at delivering an experience that anyone would consider driving a performance oriented car. It was the anchor and Achilles' heel of the entire thing.
It's not difficult to see why Los Angeles county is an absolute haven for car and motorcycle enthusiasts though. The run down Mulholland Highway toward Malibu was a wonderful drive and even with its popularity, many stretches of the road had little traffic. Despite my Camaro and its incapacitated feeling V6, I adored the drive down the valley. The road consisted of a combination of both sweepers and aggressive, sharp bends. Driving west on Mulholland meant the route would ultimately end back on the magnificent Pacific Coast Highway.

In meeting up with Mr. K our agenda for the day was simple, to overwhelm ourselves with cars and especially cars of the exotic variety. We would have a go in his Ferrari 599 GTB and then go swing by a local McLaren dealership to gauge his interest in adding a McLaren to his collection. As a way of making the day a very McLaren day, we would visit the nearby Petersen Museum afterwards to get up close and personal with my childhood hero, the almighty McLaren F1.
The dealership we visited was McLaren of Beverly Hills who was generous enough to let us sample a lightly owned 12C convertible.
Neither of us having driven a McLaren before, Mr. K and I expressed a concern that the 12C would feel something like a dull Nissan GTR in the form of a sleek designer piece. That is to say, the car would feel too clinical and too uninspired. To be fair, I hadn't driven a Nissan GTR either, but either way hoped McLaren didn't build a car that felt like boutique refrigerator strapped to big turbos. 
We were very wrong.
I've driven some cool cars in my years prior, from fast Corvettes like the ZR1 to Mr. K's own 599. And despite that, I've never experienced the exhilaration that comes from hammering down a McLaren. The car felt special as you opened up the butterfly doors, navigated your way into the cabin, climbed over the sides of the carbon tub, and planted yourself into the seat. You would reach up, close the doors, look around, look at the huge 9000 rpm tach staring straight back at you and realize you were in something serious.
Then, in the heat of excitement, you hit the throttle hard and realize why a McLaren costs a very different price than a similarly powerful Shelby Mustang for example. The way the car pulls is brutal yet composed. It is dramatic in the most subtle of ways.
Mr. K and I both agreed the car had a very alluring quality. It was a car that felt like it could be hammered on for days on the track but was still a bliss to punch around town. I took back every prior reservation I had for it. It was a brilliant car. 
Perhaps what was most interesting was how it contrasted to the 599. Whereas the 599 screams around town at deafening volume, the McLaren 12C chooses not to create a scene. In silver it looked like any other sports car to the unassuming eye.
The Petersen Museum featured a lot of very special metal, but however cliche it may be for car lovers, I had a lifelong penchant for the great McLaren F1 supercar (
I elaborate on that here
). The museum was able to bring McLaren F1 chassis #013 to its exhibition at the end of 2015. I bid it an extraordinary amount of attention.
Perhaps the icing on the cake came when I discovered the Petersen also hosted an all carbon P1. By this point I had witnessed several P1s on the trip but what I realized at that moment made me feel like a true kid in a candy store. Within a two hour timespan, I was able to see every single McLaren roadcar ever made in the flesh.

In similar vein, I was also able to witness a majority of the roadcars Bugatti had ever made within a timespan of a several days. Needless to say, I was having a good time.

At the end of the visit, Mr. K decided we could grab a few shots of the 599 atop the Petersen parking garage as a very apt way of celebrating our love for the automobile.

Then Mr K. decided it would be neat to take me down LA's famed Rodeo Drive. While I had been in many high dollar cars before, for the first time I reminisced of my childhood and the burning lust I had for them. In my childhood days I remember always being on the outside looking in when something exotic and gorgeous drove by. I remember visiting affluent areas and seeing the Ferraris and Porsches go, pointing out the cars with delight and wondering what it must have felt like to be on the inside. I had always thought the day I get to be that person would be the day I'd find contentment.
Then I realized where I was.

Onwards across the country to Atlanta.
III. Intermission at Atlanta
Cars experienced on this leg: BMW M3 (E90), BMW 335i (E92), Mercedes C230 (W203)
I had planned for my trip to intermit back in Austin for less than a day and then Atlanta for some 19 hours as a stopover. I had a few friends in Atlanta (well Cam again, for one) who would enthuse me in making an appearance in their cars.
I was picked up by my buddy Andy in his recently acquired BMW E90 M3. Andy, a car detailer and Georgia Tech brainiac, was an aficionado of all things in immaculate condition. His car, of course, was not an exception.

Then for the express purpose of adding to my list of cars driven, I met up with another friend, Corey, and asked if I can have a go in both his and Andy's cars. Corey brought out his very modified E92 335i complete with M3 bodywork. On air suspension, it lowers at the push of the button and makes cool turbo braap and pshhh noises.

While not entirely my intention to make BMW the choice car of this trip, the Atlanta intermission would roughly mark the halfway point for the trip and I had already gotten to drive four different ones.

Cam's workhorse was his Mercedes C230 that he has kept since new. For as long as I've known him, he has been an enthusiast of the three-pointed star, but recently his affinities have grown increasingly Bavarian. I wonder why.
As a quick final farewell to Atlanta, I conducted a very brief photoshoot at the airport before my flight.
Next stop, Frankfurt.
IV. Roadtrip Across Europe
Car experienced on this leg: VW Scirocco
If there's a theme attached to this trip (aside from BMWs) it's one that revolves around sleep deprivation.
After an hour and half flight delay, I had arrived in Frankfurt at around 11 am. My mind was jet-lagged and still running on Texas' central time which would have been 3 am back home. As with buses, I don't sleep particularly well on planes either. The 9 hour flight to Frankfurt was generous enough to grant me approximately 0 hours of sleep with, at best, brief moments of shut eye. I was running on fumes at this point.
Luckily I had a rental car booked for this part of the trip as well and if the BMW wagon and Camaro had taught me anything, cars make wonderful makeshift bedrooms in the event of crazy sleep depriving trips. Well, sleeping on the reclinable front seat anyway. 
I headed straight for the Sixt counter and they offered me a handful of cars, everything except what I had booked for of course. Surprisingly enough, they had Volkswagen Scirocco sitting on the lot and I thought that was good enough to make for something of an article piece.
For the unaware, the Scirocco is a very special little VW in the eyes of American VW enthusiasts. You see, previous generations of the Scirocco in the 80s have always been an adored sporty alternative to the VW Golf. Volkswagen rebooted the nameplate in 2007 and, in a marketing decision, decided not to bring the new Scirocco to North America.
My plan for the first leg of Europe was to grab the rental and go on what I like to call a "speedrun trip" —– in other words, going as many places and doing as much stuff as possible in a short amount of time. It isn't exactly a conventional way to enjoy a trip or soak in the sights, but it definitely gets me on my toes and is time efficient. I would be doing this bit of the trip solo which would leave little to slow me down.
My first stop was a car dealership I've heard about just a few years ago and wanted to visit since then. The place is called Auto Salon Singen and is located on the very southern tip of Germany, almost walking distance to Switzerland. It is known as one of the most incredible car dealerships in the world and constantly stocks some of the rarest vehicles in the book. The drive from Frankfurt? Just a mere 3 hours and change. With the advantage of the Autobahn, I wanted to make it in 2.5. The problem was, I was running on 0 hours of sleep.
After attempts to nap at Autobahn-side rest areas, I realized my mind was too full of excitement and my body was too full of adrenaline to do so. Thus I made an ill-advised decision to make the 3 hour drive without any sleep at all. At this point I had just about hit the 24 hour mark of being awake.
I did safely make it to Singen and was welcomed by a staff member just an hour before the dealership closed. He was delighted to find out I was at Car Week in California just the week prior and remarked that he was invited to attend but had prior commitments. At this moment I was reminded that regardless of where you travel in the world, car enthusiasts in a sense, all belong to one big community.
Monterey Car Week, however, had desensitized me to automotive pornography on the showroom floor. It was somewhat unfortunate then as the cars that sat before me at Auto Salon were some of the rarest and most magnificent machines I had ever seen.
Determined and ambitious, I had booked my first night of accomodation near Strasbourg, France. After the visit to Auto Salon, I had to make a two hour trip over to the French border. Eventually my mind had shut down and I was forced to pull over in the countryside to nap. Sometimes stupid luck is still luck after all and I ended up making it safely to France by nightfall.
In the following two days I had to hit Luxembourg and Belgium before making my way across the Netherlands back into Germany, not so much for cars as much as it is to just visit. On the morning of day 9 of the trip, I made the trek over to Luxembourg City from Strasbourg. On my way out I decided to do something I hadn't ever done in my 12 years of driving. I spotted a young hitchhiking couple on the side of the road who I later found out were homeward bound for Paris. I wasn't prepared to drive them all the way to Paris but decided to give them a lift to Metz which got them a fair amount closer.
Spending my first day ever in France by driving with a pair of native hitchhikers was one very interesting way to be acquainted with the country. Our main conversation piece? Of course it was Donald Trump and his disturbing influence on Americans.
So about the car — the Scirocco is easily one of the most enjoyable hatchbacks I've driven. It felt like a slightly smaller and less practical Golf with reduced outward visibility but more interesting aesthetics. Despite not having a Scirocco in GT or R trim (I wish), the car still proved to be somewhat peppy and a fair amount nimble. On the journey from Frankfurt I was able to hit an indicated 220 kmh on the Autobahn before the limiter intruded. That's just shy of 140 mph.
Entering the highly populated city of Brussels, I was delighted at the Scirocco's maneuverability around tight streets and its features that seemed to have been designed with European city driving in mind. It had backup sensors that made parallel parking a breeze and a navigation system that was actually enjoyable to use. I zipped around Brussels, rowed through the manual gearbox and pretended to drive like I lived there.
Yet, for as long as I've had friends who drove VWs I've made jabs at them for their notorious reliability issues. By the time I had left Brussels, drove through the Netherlands and reached Dortmund, Germany on the afternoon of day 10, my Scirocco had performed flawlessly for 1300 kilometers at this point (a whopping ~800 miles in 3 days). And as luck would have it, as I was pulling into the driveway of my Airbnb booking, I started to make a three-point turn and then everything went downhill from there.
Reverse gear engagement on the 6-speed Scirocco was easy enough. Push the shifter down and go left and up. This time, however, engagement was impossible. So there I was, with half of the car on a driveway and half of it jutting into a narrow German residential street. I was stuck. Reverse gear was locked out with what felt like a jammed lock out pin.
It seems that if you look for adventure often enough it eventually comes looking for you. Of all the Airbnbs I've stayed at over the years, I've never had to make a first acquaintance with a host by asking them to push my rental car. Luckily I ended up with some of the kindest individuals who agreed to aid in the reversal of my Scirocco through manpower. They weren't thrilled at the unexpected exercise but we called it even when they managed to laugh at my misfortune.
A quick call to Sixt resulted in the replacement of the Scirocco. The trick now was to just get to the local Sixt rental office by not using reverse at all. Simple enough.
It was a shame that I had to give it up though as I actually really enjoyed my time with the Scirocco. It was a fun car and a great looking hatchback with some very intuitive features. The car performed flawlessly before it decided it would succumb to what VWs are infamous for.
Onwards I went then to visit a friend in Dortmund with a new rental. The journey continues with my replacement rental car in part VI.

V. Journey to the Nurburgring (the E30 that could)
Car experienced on this leg: BMW 320i (E30)
Car enthusiasts are an opinionated group, but this much almost every car guy can agree on: the little Bavarian company of BMW has developed a solid reputation over the past decades of perfecting the small sports sedan. Praise of its classic E30 3-series is a horse that's been beaten to a dried pulp. The car needs no explanation and no stage to set. It is the modern classic that auto journalists plead for everyone to drive at least once.
It may be then that the best way to experience a BMW E30 is to motivate one to make a journey across Germany to an automotive playground that shares a legacy of possibly even greater caliber, the Nurburgring. For lovers of cars and motorsports, the Nurburgring is a racetrack that needs no summary or introduction. It is the most, the best, the superlative fill-in-blank of automotive driving grounds.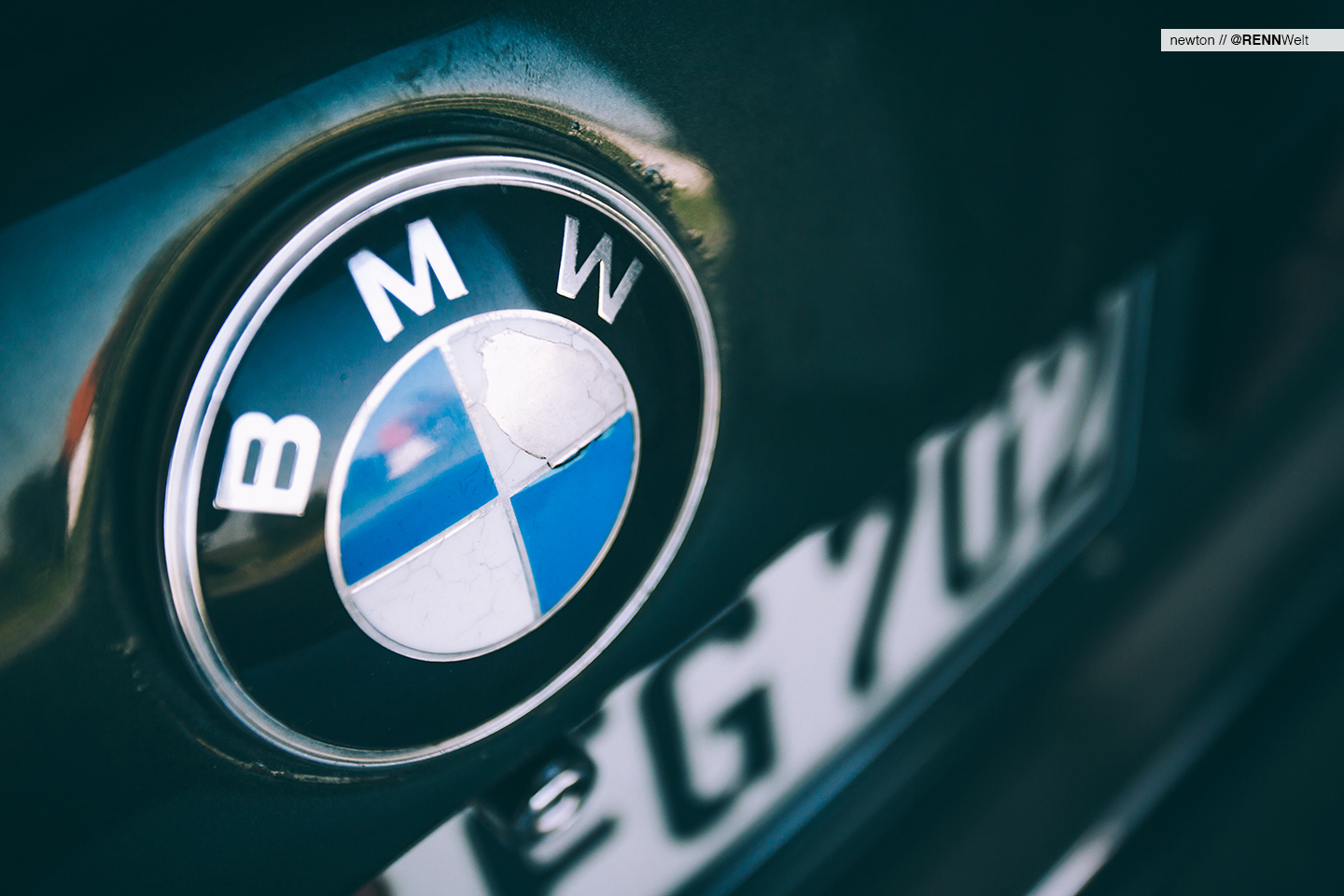 In short, a match made in heaven becomes a phrase that falls short in describing how harmonious the BMW E30 goes together with the Nurburgring. You can visit the Nurburgring in any car you'd like, but you should try and do it once in an E30.
One of the primary agendas I had for making the trip back to Germany was to visit Florian and his E30. Florian is guy I met in Austin who hails from the German countryside. He still keeps a 320i convertible in a shed back at his family's ranch. Our journey would begin from there near the town of Brilon in the German state of North-Rhine Westfalia, some 100 kilometers (that's about 62 miles and you car guys should know that one) east of Dortmund. The trek to the Nurburgring would be around 300km and take around 3 hours. Normally, this is no challenging task. A three hour drive is one any American can knock out after some morning coffee.
However, as with many 25+ year old E30s, Florian's E30 has seen better days. Its engine has questionable rates of oil consumption, its cooling system breaks a sweat to do its job properly and the entire chassis rolls on suspension and tires that were made from somewhere during some time in history. We should have probably checked before setting off.
It also just so happened to be my luck that Germany was going through a heatwave during my visit. German summers are usually mild and Europeans in general have developed a culture that does not rely on air conditioning, unlike the U.S. I expected it to be impossible Germany would ever experience heat within the same realm as Texas. Yet there I was, sitting in 95 degree heat in Germany.
With no standard AC in the E30, we dropped the top and began the journey. The sun seemed to welcome my visit by reminding me it is the same sun I see in Texas.
The first issue with Florian's E30 is that it had a hood that did not like to stay shut. It would pop open at the faintest notion of a road bump or dip. We had to pull over often to slam it shut. This issue seemed to foretell what would happen next.
For most of the trip the car performed well. However, the latter half of the trip was plagued by bouts of stop-and-go traffic and a threatening cooling gauge on the cluster that hovered towards the red. We were only less than 50km away from the Ring when the system gave up the heat. A hose to the coolant reservoir had failed and the clamp barely held on. Once the clamp was removed and re-adjusted, we lost coolant by the liters. The international cheesy pun association would have remarked that we were hosed at this point, but we weren't going to give up that easily.
With no real tools or spare parts, Florian had borrowed a Swiss army knife of sorts from another motorist at the rest stop. He managed to tighten down the clamp and get the hose to stay. The cooling system was running on significantly reduced water and as a desperate attempt to get it working again, we dumped sparkling drinking water into it. Perhaps, we thought, if we drove fast enough we could trick the car into believing it's air-cooled. I'd like to think the most resilient of machines run on optimism.
Remarkably, after a 3.5 hour trip and a lot of cooling anxiety, we had finally made it to the Nurburgring.
At this point the dilemma was determining if the car itself would be strong enough to do laps on the Ring. We knew the car would still have to make a return trek of 300km back to Brilon. The risk of a blown engine was real and our one day adventure can easily turn into two if the engine decided it no longer found its head gasket appealing.
Yet, we were here at the legendary Nurburgring in BMW's most winning car. I had asked if we were really going to forego the chance of giving it the proper baptizing after the journey here. Our only other solution was to rent a Ring racecar, something I did when I first visited the track in 2014. However, rent-a-racers are pricey and most of the selections don't come in the form of an E30.
We made the decision that it has come this far, and we would wing it and run it. 
And it was terrifying.
You see the Nurburgring, in addition to being one of the last remaining dangerous racetracks in the world you can drive on, is a very big course. At 21km (or 13 miles) long, whereas weather at the start of the track may be sunlit with dry pavement, it's easily plausible that a driver would run into a torrential downpour halfway around the circuit. Florian's E30 had no driving assists and no ABS. The car was a droptop and had no rollover bars to prevent decapitation in the event of a rollover. To make things worse, we had no idea what kind of tires it ran or how old they were.
Then it rained.
Things got very sketchy, very quickly. Driving BMW's best on the world's most renowned racetrack became a death wish. To make matters worse, the Nurburgring has recently faced a string of morbid realities. It was home to two fatalities on track just the month prior in July and a spectator death in 2015. The reminder was extremely unsettling.
Going around the Nurburgring in the wet in a convertible E30 then was downright scary.
By some miracle we were able to complete two laps, one lap for each of us behind the wheel, without blowing up the engine and more importantly, without dying. At this point multiple accidents begun to occur with the soaked track and the Ring was promptly shut down for the rest of the day.
Our experience was immortalized by the dedicated video guys who camp out at the Ring daily. In the video below, you can see that the hood on the E30 once again had popped up making us not only one of the slowest vehicles on track but also the most ridiculous looking car. The video clip shows a wreck that happened just moments prior.
At day's end, Florian's E30 survived the journey to the Nurburgring and the journey around the track itself. With the most challenging part of the day over, we just had to drive it back to Brilon now.
We hit the Autobahn around 8:30pm and would be due to arrive home at around midnight. The car performed brilliantly. Even with its age and worn bits and even with all its flaws and issues, the car did everything we asked and succeeded. At around midnight we were able to make it home with the car still running strong. In the happiest of endings, we were also alive.
I never really doubted the legacy of the BMW E30, but by any measure in the modern age, it is at best a slow and clunky German jalopy. Yet there's something definitely to be said about a car that has existed before the Berlin Wall was torn down and still manages to get to and from, as well as drive on, the Nurburgring while exciting the senses. It was in every way old and unremarkable and in every way an awe-inspiring car. The E30 is one of the best BMWs ever made.
VI. Final adventures (and epilogue)
Car experienced on this leg: BMW 118i (F20)
So what replaced my VW Scirocco? Of course, it just had to be another BMW. This time I was offered one of the smallest and most affordable BMWs sold in the European market, the 118i. It was a four door hatchback, had a sweet 6-speed manual and in many ways more fun than I had expected. Oh and the 1-series hatchback is also not a model sold in North America.
My final few days of the trip were spent crossing west Germany and visiting beautiful Cologne before departing. Before then however, I realized that the Nurburgring was on the way from Cologne back to Frankfurt. I had some time to kill and had in mind a very specific place at the Nurburgring I wanted to visit that I didn't have the opportunity to check out in the two days prior with Florian. 
In returning to the Nurburgring, I decided to drop by Ring Garage, a small rental racecar shop a few minutes away from the track. While I had expected to see some of Shmee150's cars there, I wasn't prepared for what happened next. Shmee150 is the Youtube moniker of Tim Burton, a car collector, blogger and lover of all things fast and exclusive who hails from England. He walked in as I was admiring his cars and was gracious enough to share a frame with my mug.
A little bit on my 118i —
German auto brands take on an entirely different image in Europe than in the U.S. Makes such as BMW, Mercedes and Audi are simply major auto brands in their native parts as opposed to the luxury status they uphold in North America. It isn't difficult to see why then that many German cars in Germany are incredibly average spec hatchbacks and small sedans.
As much as I'd love to hit ludicrous speeds on the Autobahn in another BMW M4, the 118i is a car you have to drive around in Europe to appreciate its practicality. The car sips gas (or petrol in Euro English parlance) and at an average converted rate of nearly $6 per gallon for petrol in Germany, fuel efficient cars are a very welcome way to drive across Europe. At the end of the trip, I had driven 2000km in Europe alone. Had I been in an BMW M4, my total bill in petrol costs would have been outrageous.
I wouldn't really call the 118i a luxury car. Its interior is clad with a generous amount of plastic and it drives as a standard hatchback would. Yet mine sported a steering wheel nearly identical to the ones found in new M cars. It had a 6-speed row-your-own with three pedals. What was unexpectedly a delight was the sport mode that sharpened throttle response and best of all, made louder turbo psssh noises.
In many regards, the car felt extremely beige yet charmed with hints of BMW DNA. Even in 118i spec it managed to hop along at a happy pace. On the way back to the Nurburgring I pegged the 1er at the limiter around 210 kmh (~130 mph).
The Ring is made up of a number of well-documented and notorious corners which all have names. The one particular corner I had wanted to visit was named the "Carousel" (or Karussell in German). This corner features a highly banked section with rough and gritty pavement. Much like Laguna Seca's corkscrew, it is a prominent part of motorsports often featured in video games, photography and for race fans all around the world. Having driven it just two days prior, I wanted to take a photo of the corner from outside the railing.
Locating the Carousel was a tad more difficult than I had imagined. Using Google Maps and a few online resources, I was able to pinpoint the exact location of the corner after several minutes. It turns out there was no official access to the location. In fact, access to the corner was not paved at all and seemingly normally done on foot.
Sometimes opportunities are better enjoyed by asking for permission never and forgiveness as necessary. As I was in a base model 1-series with plenty of ground clearance and tall tires, I decided the car could undergo some trail testing.
Upon driving on uneven dirt trails for over 10 minutes, I arrived at the Carousel and was greeted by signs to NOT do exactly what I came to do. The signage advised me that taking photos outside the Carousel was allowed only by privileged personnel and not by the casual observer. 
I stayed put and looked around for the faintest hint of another soul in the woods. There was nothing to be seen or heard except for except for distant exhaust whine.
I knew I was somewhere I wasn't supposed to be.
In an effort to haphazardly comply with the desires of Nurburgring officials and get what I came for, I snapped off a series of photos in quick succession for just a handful of minutes. I decided to not stay for very long at all and just long enough for a number of cars to slingshot around the Carousel. Fortunately my efforts did not go unrewarded. During that time I managed to capture one of the coolest photos I had taken yet: a lone Porsche 911 GT3RS entering the Carousel and coming around it.

Rain started falling shortly thereafter and I had to get out before the trails turned to mud. At the same time I started to face the beginning of my own downfall. I was coming down with some kind of stomach flu or food poisoning. I was getting sick and I was not feeling well.
The return flight home from Frankfurt to another stopover in Atlanta was the single most difficult flight I have had to ever endure. For 9 hours I experienced flu-like symptoms, shivering and vomiting from my own seat. I had to escape to the bathroom no less than four times and had flight attendants contemplate quarantining me to a corner.
It would be an entire 24 hours later before I was able to find myself waking up from my own bed again and reflect on the trip I just returned from.
This then was the most polarizing trip I have ever been on. I went through the highest of highs by experiencing some of the most incredible drives — piloting performance BMWs of various models, not-for-American market German cars across Europe, a legendary BMW on the Nurburgring and a McLaren I had only once been able to dream of driving. I disregarded my need for sleep and spent several nights in cars and buses. At least once I had woken up in a car only to forget where I was. And then I experienced downright embarrassing and torturous moments as I puked my guts out in front of horrified fellow passengers on an international flight. 
I experienced everything incredible in the world of automotive enthusiasm and I did it by visiting destinations across half the world in two weeks. 
There was a little something that fell through in planning however. It would have completed the pilgrimage, but I had ran out of time to find tickets and would have ran short on time to attend. It was the Belgian F1 race at Spa Francorchamps and it would have been a remarkable event to add to the trip. I had made plans to visit Brussels on the coinciding weekend but alas, not all plans work out perfectly and that was alright.
I'd like to think the greatest rewards come by way of ambitious effort. This trip did not go easy but saying I had a good bit of fun would be an understatement. Sure I saved up for months and had to subject myself to spreadsheeting my entire itinerary out just to gauge if the whole thing was even feasible. I had to make things work with the budget I had and the time I had off. I wanted to prove to myself that against everything, I could make it work.
And it did.